It's been two weeks since the news of earthquakes and tsunami in Japan has ricochet throughout the world. The devastation of land, the nuclear disaster and continuing loss of so many lives; all this shroud a cloak of sadness throughout the international community.
Many countries have come to aid Japan in these tough times, and as individuals, we all want to extend our loving hands. Through tough time, food is a great source for comfort, so naturally food bloggers came together to pool their talent for various charity projects. This is one of the many for which I have donated my time.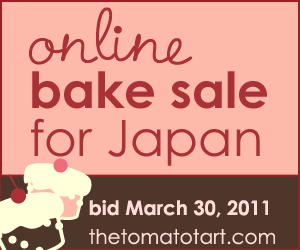 The Online Bake Sale for Japan is the brainchild of Sabrina Modelle from The Tomato Tart. Like all bake sales for a good cause, all she needed to do was ask and the show of kindness never stopped. There are over 60 bloggers from all over the world participating in this auction-style bake sale. All proceeds will go to Second Harvest Japan- disaster relief plan. The viewing will start on Monday, March 28th and the auction will commence on Wednesday, March 30th.
I am truly honored to be included in this project with a group of well-established food bloggers. My contribution to the auction is Caramel Pecan Kisses. Pecans and coconut are encrusted in the buttery cookies, while the caramelized filling provides a great contrast in texture as well as a hint of salt to highlight the sweetness.
The highest bidder of my cookies will receive a batch of freshly baked Kisses. I will send these worldwide, so friends from around the globe, please do not hesitate to bid on them. This is for a great cause, so please open your heart, wallet well as your appetite and support us. You'll receive a sweet thank you in the mail.